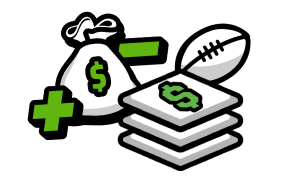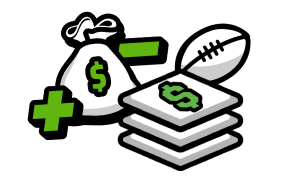 As the weather gets colder, hockey makes a return to our televisions and betting on it can make it just that much more exciting as a fan. From understanding odds to deciphering key betting terminologies such as the Moneyline or the Puck Line, hockey offers countless opportunities to place a bet and have some fun. Here, you can learn some key basics of betting hockey so you can place hockey bets on DraftKings Sportsbook.
Understanding the Odds
Understanding the way odds work is your first step to becoming well versed in hockey betting. There are a few different ways of displaying odds, but the most common is American odds. For example, at +100 odds, bets are 1:1 ratios, meaning for every $1 you bet, you will win $1 plus your original wager if your bet hits and wins. If the odds are above +100, you would win more than $100 on a $100 bet, but if the odds were negative (-), that means you'd have to place more than $100 to win $100. There are numerous ways to bet on these odds in hockey, and it starts with the basic lines – Moneyline, Puck Line, over/under totals and more.
Choose Your Bets
Moneyline
Betting on the Moneyline is easily the most popular betting method in hockey and it's as simple as it gets: bet on the winner. Since all teams are not equal, each team is assigned a Moneyline, a line that reflects the probability of that team winning the game. The favorites are indicated by a negative value (-) while the underdogs are indicated by a positive value (+). For example, if the Moneyline has Buffalo at +120 and Toronto at -150 odds, Toronto is favored to win and you'd need to bet $150 to get a $100 return. If you wanted to place a $100 bet on Buffalo to pull off the upset, you'd get a $120 return.
Puck Line
The Puck Line is the hockey version of the "point spread", where a certain range or number of goals create handicaps between the two teams involved. Since hockey is generally low-scoring and tightly contested, the Puck Line is usually 1.5 goals with the favorite set at -1.5 and the underdog at +1.5. If you're betting on the favorite, that team needs to win the game by two or more goals to successfully cover the -1.5 Puck Line. If you went the underdog route, that team must win the game outright or lose by less than two goals to successfully cover the +1.5 Puck Line. For example, if Buffalo sits at +1.5 goals at -120 odds against Toronto, its bettors will win the wager if Buffalo wins outright or loses by one goal. For Toronto bettors, their bets will be successful only if Toronto wins by more than one goal. In both scenarios, a $120 bet would yield a $100 return.
60 Minute Line
A 60-minute line in hockey is similar to the Moneyline but it doesn't include overtime – leaving bettors with three outcomes: a home win, a visitor win, or a tie. For those who are interested in betting on hockey ties, 60-minute lines, or three-way markets, are the only way to go. For example, if Buffalo is playing Toronto, bettors have three ways to go: pick Buffalo to win in 60 minutes, pick Toronto to win in 60 minutes or have both teams be tied after 60 minutes. As expected, the odds will look much better than the Moneyline but they come with an obvious risk of the game going into overtime.
Over/Under
In hockey, the totals are bets based on the number of goals scored in a single game and you must decide if the total will be over or under the number set by DraftKings Sportsbook. Most NHL totals range between 5.0 and 6.5 goals depending on goaltender swaps or how well teams match up against each other. For example, if the over/under for the Buffalo-Toronto matchup was set at 5.5, you'll win the over if at least six goals were scored and win the under if only a maximum of five goals were scored. If the total was a whole number like 5.0 and five goals were scored, bettors will be refunded as there no were no winners or losers in this scenario.
Props
Hockey prop bets are widely considered "fun bets" mainly because they're available for nearly every aspect of the game that you can think of. They aren't always tied down to the final score and come in two forms: game props and player props. If you think Colorado will score the first goal of the game against Tampa Bay, throw some money on it and you have yourself a game prop. If you think a player will score two goals himself in that game, then you have yourself a player prop, as well.
Parlays
Parlays in hockey are for bettors looking to bet one single amount across different bets and receive a bigger payout if they win. For hockey fans looking for more excitement, parlay bets are the way to go. For example, if there is an 8-game NHL slate, you can build a parlay consisting of Moneyline picks on every winner that night and place one single amount on the entire bet. This is where the excitement comes in because even if you went 7-of-8 on your picks, one incorrect bet kills the whole parlay. Slowly becoming popular recently in hockey, parlay bets typically have much higher payouts, but all outcomes must win for a payout.
Grand Salami
If you're looking at the over/under totals but can't make a decision on which games you'd like to target, you can try out a "Grand Salami" bet. A Grand Salami bet is a unique bet that allows bettors to have a rooting interest in each game on the slate while also giving them one large total of goals scored rather than individual totals. For example, if there's a 10-game NHL slate, the Grand Salami over/under total will likely be 45 to 55 goals. Oftentimes, the Grand Salami total will be slightly higher than all of the individual totals added together.
Futures
Future bets can be placed on any future hockey events, whether that's conference winners or individual awards. Do you think an NHL player has what it takes to win MVP? If the odds for a player to win MVP were +900 right now and you placed a $100 bet, you would receive a sweet $900 in profit if that player gets named MVP by the end of it all.
Live/In-Game Betting
Live or in-game betting is betting on games as they are happening. Betting during the game can add to the excitement of watching and the outcomes are quick. Odds can change quickly when live betting and will continuously update throughout the game. If you're feeling confident in a player's ability to score the next goal, place a live bet on it and reap the rewards.
Always Wager Responsibly
At DraftKings, we believe that life is more fun with skin in the game and we want it to stay that way. It's important to remember that you should only bet what you can afford and always set reasonable limits for yourself. Here are some things to keep in mind when you're gambling:
Set a realistic budget that you can afford to gamble. Never play beyond your means.
Set a time limit on your gambling and stick to it.
Don't place large bets in the hopes of winning big.
Don't try to make money by chasing your losses.
Gambling should not be viewed as a pathway to financial gains or shortcut to financial success.
Avoid gambling if you are in recovery from any dependency or are under the influence of alcohol or any other substance.
We provide our players with tools to set budgets, limits, and cool-off periods, and always give you the option to self-exclude. For more information and resources, consider visiting DraftKings' responsible gambling help guide. If, for any reason, you feel like you need help, we strongly encourage you to contact your local responsible gaming organizations. Remember, it's more fun when it's for fun.
Research
Keeping up with the latest injuries, line changes, and betting trends may be helpful for betting on hockey. Since the NHL schedule is generally busy and action-packed during the season, doing research beforehand will go a long way. Always consider goaltender changes and trends as well as situational bets such as the top player returning to the lineup or a team playing at the end of a long road trip before placing bets.
Conclusion
With 32 NHL teams playing 82 games a season, there are nearly endless opportunities for you to bet on hockey. With a basic understanding of odds and the bet types for hockey, you're ready to start placing bets on the NHL. As always, wager responsibly and bet what you can afford as well as set reasonable limits for yourself.