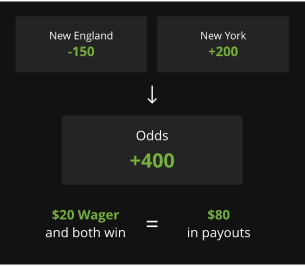 A 'parlay' bet is a bet placed on multiple outcomes (or legs) to occur. For a parlay bet to win, all outcomes (or legs) within the parlay must be selected correctly. The odds for each pick are multiplied by one another to determine the odds for the parlay.
For example, New England at -150 odds, parlayed with New York at +200 odds, would result in +400 odds. Wager $20 on the above two picks, see New England and New York BOTH win and you cash in with a cool $80 payout.
Parlay Odds Calculator
See how much you can win with your next bet.
Payouts and profits may vary slightly depending on methodology and rounding when converting odds or calculating parlays. All payout and profit numbers here are shown for illustrative purposes only and may vary slightly from actual payouts and profits.
Bet Amount
Enter the amount of money you want to bet
Format
Choose your desired parlay odds format
Payout
Bet Amount + Profit