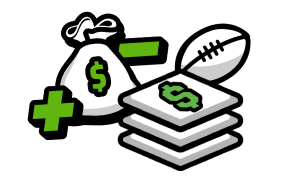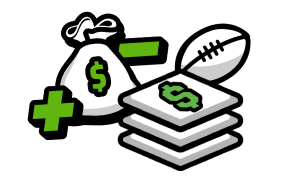 Betting on the NFL brings a whole new level of excitement for fans. Let's dive into how you can approach the game on DraftKings Sportsbook. From understanding odds to deciphering key betting terminologies such as props or spreads, football offers countless chances to win money. Here, you can learn some key basics of betting and place football bets.
Understanding the Odds
Football betting on DraftKings Sportsbook utilizes American odds by default. For those new to this system, each number can be equated to a ratio. For example, +100 odds have a 1:1 ratio. For every $100 you wager at these odds, you would win $100 plus your original wager back. As the odds increase (which is indicated by a larger number after the + sign) so do your potential winnings. Negative (or favorite) odds, which are indicated by a negative (-) number, represent the favored outcome and lower payouts if you win. For example, you'll have to wager $120 to win $100 on a bet with -120 odds.
Choose Your Bets
Moneyline
Betting on the Moneyline is straightforward, as you're simply picking a winner. Due to a variety of factors – such as talent gaps and home/away environments – almost all NFL games have a favorite and an underdog. Favorites are designated by negative (-) odds, while underdogs have positive (+) odds to emerge victorious. The larger the numbers are after the + or - symbol, the wider the supposed gap is between the two teams. For example, if the Moneyline has the Jets as -450 favorites against the Texans, you would have to bet $450 to win $100, which also demonstrates how heavily New York is favored to win the game.
Point Spread
Spread betting is another immensely popular type of betting in football. It's typical to see spreads sit in the 3-7.5 point range in a regular season matchup, but the number can expand or shrink depending on the talent gap between the teams facing off. If you take a team to cover a negative spread, it means they must win the game by a greater number of points than that total. For example, if Cincinnati is a -3.5 favorite against Chicago, Cincinnati must win by at least four points to cover. On the other hand, Chicago must lose by three points or fewer to cover +3.5 on their side.
Over/Under
In football, the totals are bets based on the number of points scored in a single game and you must decide if the total will go over or under the number set by DraftKings Sportsbook. Totals set for NFL games typically sit in the 40-50 point range. For example, if the total for Jaguars-Colts is set at 43.5, the under wins if the teams combine for fewer than 44 points, and the over wins if they combine for 44-or-more. If the total is a whole number like 50 and exactly 50 points are scored in the game, bettors will be refunded as there no are no winners or losers in this scenario.
Props
Football prop bets provide a fun twist, because they're available for nearly every aspect of the game that you can think of. They aren't always tied down to the final score and come in a multitude of forms. Some of these fun props include being able to bet on the game's first touchdown scorer, the outcome of a specific drive, over/unders on receiving and rushing yards, and so much more. Props give bettors the opportunity to look at games from a completely different angle.
Parlays
Are you confident in a multitude of results on a specific day/week of football games? If so, parlays are for you. Parlays allow users to combine a variety of outcomes into one bet with larger odds. For example, you can build a parlay consisting of Moneyline picks on every winner for a certain week of games in the regular season and place one single amount on that entire bet. That parlay would have significantly expanded odds, which would result in a large payout if all legs (or individual bets that make up the parlay) win. However, if even one outcome flops, the entire bet loses. Parlays allow combining several different bets to increase the payouts if all legs win.
Same Game Parlays
If you're confident in how a specific matchup will play out, Same Game Parlays – also known as SGPs – are for you. SGPs give users a ton of flexibility to pick their spots. For example, if you're building a SGP for Bengals vs. Browns, instead of having to take the standard receiving yards line for Tee Higgins or a base alternate, Same Game Parlays on DraftKings Sportsbook allow you to pick an exact over/under number. This flexibility allows you to either build "safer" parlays with a number of legs that are heavily favored to occur, or you can boost the odds by taking a few plus-money (+) legs. There are lots of ways to build Same Game Parlays, feel free to explore all the possible angles.
Futures
Future bets can be placed on any future football events, whether that's division winners or individual awards. If you think a team has what it takes to win the Super Bowl, you can place a futures bet on that. If the odds for a team to win the championship are +800 right now and you placed a $100 bet, you would receive an $800 profit if that team wins.
Live/In-Game Betting
Live or in-game betting on football is self-explanatory: bet on games as they are happening. Sometimes we place bets late or want to watch part of the game play out before wagering on it. Odds can change quickly when live betting and will continuously update throughout the contest. If you're feeling confident in a team's ability to come back after going down 0-7 early in the first quarter, place a live bet on it and take a chance at reaping the rewards.
Always Wager Responsibly
At DraftKings, we believe that life is more fun with skin in the game and we want it to stay that way. It's important to remember that you should only bet what you can afford and always set reasonable limits for yourself. Here are some things to keep in mind when you're gambling:
Set a realistic budget that you can afford to gamble. Never play beyond your means.
Set a time limit on your gambling and stick to it.
Don't place large bets in the hopes of winning big.
Don't try to make money by chasing your losses.
Gambling should not be viewed as a pathway to financial gains or shortcut to financial success.
Avoid gambling if you are in recovery from any dependency or are under the influence of alcohol or any other substance.
We provide our players with tools to set budgets, limits, and cool-off periods, and always give you the option to self-exclude. For more information and resources, consider visiting DraftKings' responsible gambling help guide. If, for any reason, you feel like you need help, we strongly encourage you to contact your local responsible gaming organizations. Remember, it's more fun when it's for fun.
Research
Keeping up with the latest injuries, depth chart adjustments and betting trends may be helpful for betting on football. Since the NFL schedule is week-to-week, injury news will come in days and sometimes hours before kickoff. There will often be an excess of injury news flowing in on game days, so doing research regarding players or teams involved in your bets will go a long way. Always survey the situation while considering trends, such as a team's struggles in specific weather environments, before placing bets.
Conclusion
With 32 NFL teams playing 17 games a season, there are countless opportunities for you to bet on football. Now that you have a basic understanding of how to bet on football, you'll be better prepared to place your bets. As always, wager responsibly and bet what you can afford as well as set reasonable limits for yourself.