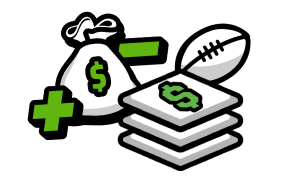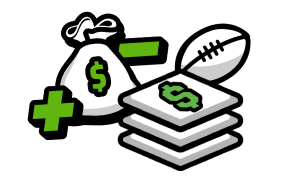 Few sports carry the moment-to-moment excitement of basketball. From defensive-led, teamwork-based comebacks, to star-making individual performances driven by a hot hand and 3-point shooting, basketball brings fast-paced action, rivalries and memorable performances in ways that few sports can match.
The drama and thrill can carry over to betting. In the same way your basketball viewing experience is based on rooting for a lifelong favorite team or supporting the next up-and-coming star, your basketball betting approach — and the type of bets you choose — can have similar layers of excitement.
When considering how to bet on basketball online, it's important to know how to read odds, know the types of bets at your disposal, and develop a clear understanding of your betting limits.
Understanding the Odds
Understanding the way odds work is your first step to becoming consistent in basketball betting. Odds will vary depending on your country, but we're going to focus on American odds.
For example, at +100 odds, bets are 1:1 ratios, meaning for every $1 you bet, you will win $1 if your bet hits and wins. If the odds are above +100, you would win more than $100 on a $100 bet, but if the odds were negative (-), that means you'd have to place more than $100 to win $100.
There are numerous ways to bet on these odds in basketball, and it starts with the basic lines – Moneyline, Spread, over/under totals and more.
Choose Your Bets
When you're choosing how to bet on basketball games online, regardless if that's on college basketball, WNBA or NBA, you have several choices. Much like the game's basis on both team and individual talents, your choices in types of wager have ties to each of basketball's best facets.
There are opportunities to choose a winner, wager on a blowout, bet on a high-paced game or slow-paced defensive battle, individual performance, or even combine several of each type of bet. Understanding the types of bet helps you choose your wagers wisely.
Moneyline
Moneyline wagers are as straightforward as choosing a victor in the game. Your wager and payout are determined by the odds associated with your chosen team. For example, in a matchup between Denver and Miami, Denver is listed as -110 and Miami is listed as +110. These odds are listed as how much profit would be returned per $100 wager. The odds suggest Denver is the favorite — if you agree, you would need to bet $110 to return a $100 profit from a Denver victory. If you believe Miami will pull off the upset, you could wager $100 to return a $110 profit with a Miami victory.
Point Spread
Point spread bets are similar to moneyline bets. However, when determining how to bet on spread basketball, there's an added layer that your winning team must win by a point margin listed in the odds. A negative spread indicates that team is the favorite, while a positive spread denotes that team as the underdog.
For example, a matchup between Kansas and UConn might list Kansas at -11.5 and UConn at +11.5. In this example, Kansas is favored to win — if you were to wager on Kansas, they would need to win by 12 points or more for a successful bet. If Kansas were to win the game but only by 11 points, you would lose your bet. If you were to bet on UConn, they could lose the game, but if they lose by 11 or less, your bet on UConn would be successful and return a profit.
Over/Under
Over/under bets allow you to bet on the combined point total between both teams at the final buzzer. When determining how to bet on over/under odds for basketball, consider the style — or pace — of the game these teams are about to play. If the over/under for a game between Boston and Milwaukee is 223.5, and you bet the over, the two teams involved would need to combine for 224 points or more to win that bet. Think they'll have a slow-paced, physical game? Think it'll be a rough shooting night? You would take the under and hope the teams combine for 223 or less.
Props
Prop bets typically focus on an individual player and their performance within a specific game. These are often listed as over/under bets but are focused on a particular statistical category. Because basketball has so many tracked statistics and styles of play, player prop bets can give you a uniquely chosen wager. Is your favorite player on a hot streak? You could choose the over for them to score more than 17.5 points. Have you been following a steady and strong power forward? You could choose the over on a 13.5 rebound over/under.
Some matchups feature head-to-head player prop bets. These are structured like a spread bet, but focus on the spread of points scored between two players on opposing teams. These head-to-head spreads can also be based on assists, rebounds and field goals scored.
Parlay
A parlay bet on basketball is a bet on multiple outcomes and requires each of those outcomes to occur for a payout. For example, if you bet $100 for Los Angeles to cover the spread and a prop bet for their star player to win head-to-head props in both scoring and assists, all three events would need to occur for a payout. For parlay bets, you can include a variety of bets on one ticket — spreads, moneyline bets and props can all be pulled together into a parlay bet.
While the payouts for a parlay bet can be substantial, all conditions have to be met to win.
Futures
Future bets can be placed on any future events, including conference winners or individual awards. Do you think a team has what it takes to win the Finals? You can place a futures bet on that. If the odds for a team to win the Finals was +900 right now and you placed a $100 bet, you would receive a $900 in profit if that team was hoisting the trophy by the end of it all.
Live/In-Game Betting
Live or in-game betting is self-explanatory: bet on games as they are happening. Sometimes, we place our bets late or want an eye test of the matchup at hand before committing some money to it. Odds can change quickly when live betting and will continuously update throughout the game. If you're feeling confident in a team's early lead after the first quarter, you can place a live bet on it.
Always Wager Responsibly
At DraftKings, we believe that life is more fun with skin in the game and we want it to stay that way. It's important to remember that you should only bet what you can afford and always set reasonable limits for yourself. Here are some things to keep in mind when you're gambling:
Set a realistic budget that you can afford to gamble. Never play beyond your means.
Set a time limit on your gambling and stick to it.
Don't place large bets in the hopes of winning big.
Don't try to make money by chasing your losses.
Gambling should not be viewed as a pathway to financial gains or shortcut to financial success.
Avoid gambling if you are in recovery from any dependency or are under the influence of alcohol or any other substance.
We provide our players with tools to set budgets, limits, and cool-off periods, and always give you the option to self-exclude. For more information and resources, consider visiting DraftKings' responsible gambling help guide. If, for any reason, you feel like you need help, we strongly encourage you to contact your local responsible gaming organizations. Remember, it's more fun when it's for fun.
Research
In addition to setting clear limits, having a wealth of information can help to keep your wagers wise. Oddsmakers are constantly researching and adjusting odds to account for new information. Doing your own research to stay up to speed on all of your team's happenings might improve your chances of a successful wager.
Do the research ahead of time so you can wager wisely and responsibly. No one wants to lose a bet because they picked their favorite team to cover the spread but missed the news that the team's hot-shooting small forward broke his thumb in yesterday's practice and will be out of action for the next four weeks. Furthermore, your team might have a history of winning by big margins against one team in particular, but if you've missed that the previously weak team is now on a six-game win streak against top-ranked opponents, you're putting yourself at a disadvantage.
Conclusion
Basketball is a game that brings so much fan excitement — player rivalries, team rivalries and swings in scoring all lead to an emotional investment. By understanding the types of bets in basketball, knowing the odds, doing your research and setting clear limits for your experience, you can have an enjoyable basketball betting experience.